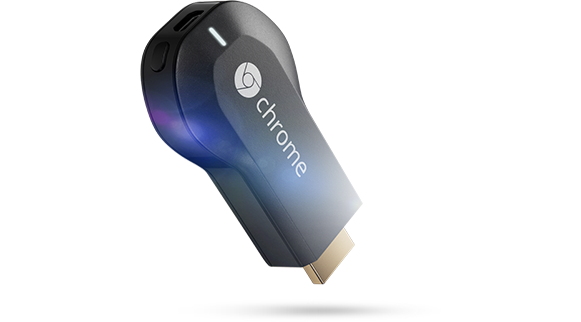 Chrome Cast
What is it?
Chromecast
is a thumb-sized media streaming device that plugs into the HDMI port on your TV. You can set it up with a simple mobile app, then send your favorite online shows, movies, music and more to your TV using your smartphone, tablet or laptop.
#ChromeCast HDMI Media Streaming Device
Dick Smith
Australia
site
has an advert for pre-ordering the device as it's currently yet
to be released in Australia.
With Chromecast, you can easily enjoy your favorite online entertainment on your HDTV.
Movies, TV shows, music, and more from
Netflix
,
YouTube
, Hulu Plus,
Google Play Movies
and
Music
, and Chrome. Users select the media to play using Chromecast-enabled
mobile apps
and
Web apps
, or through a
beta
feature called "tab casting" that can mirror most content from the
Google Chrome
web browser running on their personal computer. Chromecast automatically updates to work with a growing number of apps.
Chromecast is remote free and works with devices you already own, including Android tablets and smartphones, iPhones, iPads, Chrome for Mac and Chrome for Windows. Browse for what to watch, control playback, and adjust volume using your device. You won't have to learn anything new.
The device also allows you to listen to free, personalized radio from Pandora on the best speakers in your home. Check out what else you can do right
here
.
Plug n play to get started 3 easy steps:
Plug Chromecast into any HDTV,
Connect it to WiFi, then
Send videos and more from your smartphone, tablet or laptop to your TV with the press of a button.